RightPath: a new model of care for children and young people
RightPath is a novel model of care to triage children and young people with musculoskeletal presentations in the community; the aim is to facilitate referral to the appropriate clinicians - either referral to hospital based care or to community based clinicians.
What is RightPath ?
Musculoskeletal presentations to primary care amongst children & young people are common. In most cases the underlying cause is not serious; explanation, advice and reassurance will often suffice and referral to specialist hospital-based care is not necessary. However, serious illness may be the underlying cause and it is important that those with potentially serious illness are identified and referred on quickly.
The aim of RightPath is to provide rapid triage and facilitate referral to the 'right care for the right child in the right place'. 
RightPath is a model of care where children and young people with musculoskeletal complaints can be assessed in the community using triage guidance and expertise of paediatric physiotherapists. Those with potential serious illness are identified and referred promptly to hospital-based specialist care (orthopaedics or rheumatology or neurology or general paediatrics) pending the suspected diagnosis. Those deemed to have a non-serious disease are managed in the community by physiotherapists and/or podiatrists.  
RightPath has been piloted in two separate sites in England, UK. The pilot was completed in 2018 and essentially demonstrated that the model of care is feasible, safe and acceptable to families and clinicians involved (publication in progress following peer review).
The project was funded by Oldham Clinical Commissioning Group and an unrestricted educational bursary from Pfizer. This included funding to evaluate the impact of the intervention and the evaluation focus of the project was led by Newcastle University. The project was National Institute for Health Research (NIHR) portfolio adopted and Research infrastructure support was provided by the North East and North Cumbria Clinical Research Network (NENC CRN). 
RightPath was awarded the British Society for Rheumatology (BSR) Best Practice award 2018.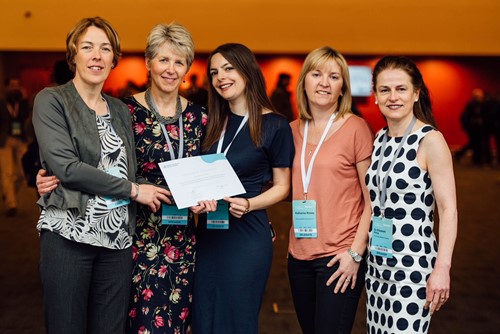 Left to Right: Dr Jill Firth. Professor Helen Foster, Dr Nicola Smith, Ms Katherine Kinsey, Dr Elizabeth Price (BSR President)
RightPath was also awarded the
APLAR-CELLTRION Best Abstract Award
at the 21st Asia Pacific League of Associations for Rheumatology (APLAR) Congress held the 8th-11th April 2019, in Brisbane, Australia.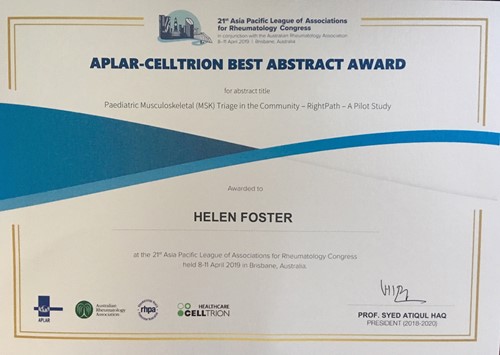 RightPath was shortlisted as a finalist for the Community or Primary Care Service Redesign Initiative - North/Midlands/East at the 2019 Health Service Journal (HSJ) Awards. For further information please see http://awards.hsj.co.uk